SHOP ALL PRODUCTS
FEATURED PRODUCTS

MORE PRODUCTS
Canadian Solar Solar Panels
CanadianSolar 540W Monocrystalline Bifacial Mono PERC Solar Panel
BiHiKu6
Bifacial High Power Dual Cell PERC Module

Bifacial module up to 585 W
· 182 mm wafer + 156 / 144 dual cell + PERC technology · Front side power up to 585 W · Up to 30% more power from the back side. The bifacial gain depends on the mounting (structure, height, tilt angle etc) and the albedo of the ground. Bright, reflective surfaces, such as fresh snow, or white gravel have a high albedo, making these panels ideal for ground mounts. BiKu technology has a lower internal current, so a lower hot spot temperature. It also minimizes micro-cracks and snail trails, making it more reliable.

Lower BOS cost and LCOE
· 12% LCOE reduction because of higher energy yield and lower system cost · Compatible with mainstream trackers
Enhanced reliability
· Up to 50% lower degradationLID / LeTID mitigation · Lower hot spot temperature · Better shading tolerance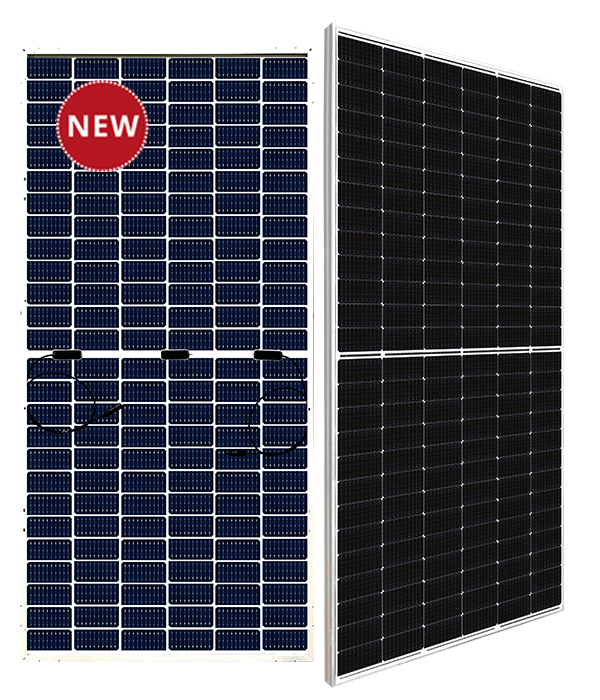 12 years enhanced product warranty on materials and workmanship
30 years linear power output warranty
According to the applicable Canadian Solar Limited Warranty Statement.
Solar Panel Tech Specs
Specification:
CS6W-540MB-AG-F42

CS6W-540MB-AG-F47

Peak Power Watts (PMAX)
540W
Power Tolerance (PMAX)
0 ~ +5W
Maximum Power Voltage (VMPP)
41.3V
Maximum Power Current (IMPP)
13.08A
Open Circuit Voltage (VOC)
49.2V
Short Circuit Current (ISC)
13.9A
STC Efficiency
21.0%
Solar Cells
Monocrystalline
Cell Count
144
Nominal Operating Cell Temperature (NOCT)
41°C (±3°C)
Temperature Coefficient of PMAX
-0.34%/°C
Temperature Coefficient of VOC
-0.26%/°C
Temperature Coefficient of ISC
0.05%/°C
Operational Temperature
-40°C ~ +85°C
Maximum System Voltage
1500VDC
Max Series Fuse Rating
30A
Glass
2.0 mm heat strengthened front / back glass
Frame
35mm anodized aluminum alloy
Backsheet
0.08" (2.0mm) heat-strengthened glass (white grid glass)
J-Box
IP 68 rated
Connectors
Staubli MC4
Dimensions
2266 ˣ 1134 ˣ 35 mm
(89.2 ˣ 44.6 ˣ 1.38 in)
2266 ˣ 1134 ˣ 30 mm
(89.2 ˣ 44.6 ˣ 1.18 in)
Weight
32.1 kg (70.8 lbs)
Bifacial Gain:
CS6W-540MB-AG
0% 540 W 41.3 V 13.08 A 49.2 V 13.90 A 21.0%
5% 567 W 41.3 V 13.73 A 49.2 V 14.60 A 22.1%
10% 594 W 41.3 V 14.39 A 49.2 V 15.29 A 23.1%
20% 648 W 41.3 V 15.70 A 49.2 V 16.68 A 25.2%