hi gang,
some of us have noticed that many of the "economy" inverters have the LVD (low voltage disconnect) set way too low to protect our battery bank from damage should we run it until the alarm sounds and finally shuts it off.
a guess as to why the makers have them set soo low might be to have them keep running when FULLY loaded at the rated power on a small battery bank. in this scenario the power draw pulls the voltage down quite a bit and the actual cutoff is something much higher than the 10.5 or so volts it cuts out at.(the voltage bounces back to something a little more reasonable).
when running on a larger battery bank with proper inverter feed cables or drawing a smaller load the inverter voltage sensing can and WILL bring our battery voltage to damaging levels without the "bounce back" that might protect a smaller bank at full load...one guys theory anyway..?
as a workaround to some of the problems associated with the LVD of these cheap inverters and some other useful hacks that may come in handy (to those that feel comfortable doing so) i welcome any input on the following wacky methods.
here is a doodle for an inverter shut down controlled by a timer for running an AC load (a small 48v charger in this case) we can do it with a remote control or a solar load controller as well, just substitute the ac relay for a dc relay and we are good to go. a very tiny relay is fine here as there is only a few mA required for the switch.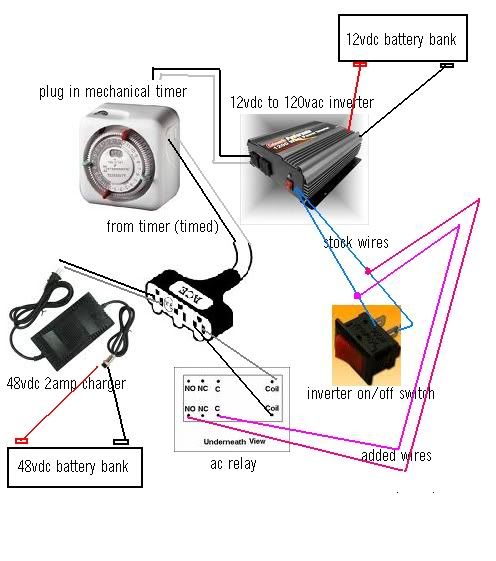 in the above sketch we would turn the inverter on which then starts the timer which then closes the relay. we then turn the inverter switch off and the power from the timer keeps the relay closed as if the inverter switch was still on until our timer trips off.
we can do the same using the LVD of a load controller (usually with better set points) or a remote control or a magnetic switch or...lots of different possibilities.
happy to work up a sketch for your requirements if needed.
kind regards, dave
edited to add:
this is a spin-off discussion from here->
http://www.altestore.com/forums/Renewable-Energy/Technical-Discussion-Solar-Electric-System-Photovoltaic/quot24Vquot-PV-amp-12V-battery-cha/index.php/topic,2333.new/topicseen.html#new
also note this basic idea is nothing new from me and was only adapted for other uses from some original work by others seen here->
http://fieldlines.com/board/index.php?PHPSESSID=7658ed4ec27926ac59f8b22ca18d6862&/topic,129565.0.html
and here->
http://fieldlines.com/board/index.php?PHPSESSID=7658ed4ec27926ac59f8b22ca18d6862&topic=144332.0
also should note that the above sketch shows no fuses or disconnects that should be included..still want to try and follow "best practices", even with no-no hacks. use your own judgment as to your abilities to do things in a safe manner!